---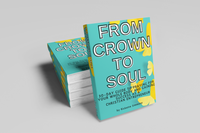 PRE ORDER: You are purchasing as a pre-order for October release 
All that you're wanting and needing to be successful as a Christian entrepreneur is on the other side of INTENTIONAL prayer. I created this 30-day guide to help you explore the Bible and prioritize MEANINGFUL and strategic prayer. My mission is to create a resource that empowers you to spend time covering your WHOLE self: from the crown to the sole (soul).
Let's pray over our:
Minds: What we think
Eyes: What we see
Ears: What we hear and actively listen to
Mouth: What we declare
Hands: How we work and war
Heart: Emotions that are Holy Spirit regulated and controlled
Feet: Where we walk
May you discover God in a powerful way as you commit yourself to 30 days of prayer and seeking His face!